Driving Directions
Can't wait see you all at the Big Event 4 tomorrow! Here are some traffic highlights for you... Safe Travels!
Beltway 8 between I-10 and Hwy 59 is under construction tomorrow with limited lanes opened. Avoid it and try going this way instead?
If you are coming from Dallas?.Take I-45 South to 610 South to 59 South and then exit frontage road to Beltway 8.
If you are coming from San Antonio?.Take I-10 East to Hwy 36 in Sealy turn right toward Richmond/Rosenberg to Hwy 59 North. Exit frontage road to Beltway 8.
Event Details:
Meet and Greet Autograph session with Dave Mirra and Bucky Lasek from 10:30am -1:30pm

Unveiling of the all-new, rear-wheel Subaru BRZ sports car and the all new Subaru XV Crosstrek
Subaru Shop Day where owners can work on their own car. Gillman will supply the tools and provide technical support.

Over 150 cars will be displayed for the Gillman Subaru Car Show. Trophies and Prizes will be awarded.

About Dave Mirra
- Mirra has been competing as a Pro-BMX rider since 1992 and holds the record for most X Games medals. He is recognized as one of the World's most well known Action Sports athletes and is credited with bringing freestyle BMX into the mainstream. Mirra joined the Subaru Rally Team USA in late 2007 earning 2008 Rookie of the Year honors. Mirra now headlines the Subaru PUMA RallyCross Team and completes in the Global Rallycross Championship behind the wheel of a 600hp 2012 Subaru WRX STI Rallycross car.
http://rally.subaru.com/rallyteam.html#dave
About Bucky Lasek
- Bucky Lasek is considered one of the world s most consistent vert skateboarder and has won 12 X Games medals, six of which have been gold. Lasek is no stranger to the world of automotive racing though and has competed in the Mustang Challenge series as well as a handful of Porsche Cup races. In 2011 he began rally training at Dirtfish Rally School where he honed his all-wheel drive skills behind the wheel of a Subaru WRX STI. Bucky signed with the Subaru PUMA RallyCross Team in 2012 with the mindset of further developing his skills from his more experienced teammates.
http://rally.subaru.com/rallyteam.html#bucky

Show us your ride, by submitting your best photo starting September 4 through October 8, 2012. Whether you're driving, peddling or skating, we want to see it! Winners will be selected in a random drawing from the top five photos that have the largest number of votes. The winner will be announced on Gillman Subaru Houston Southwest blog on October 10, 2012!
contest rules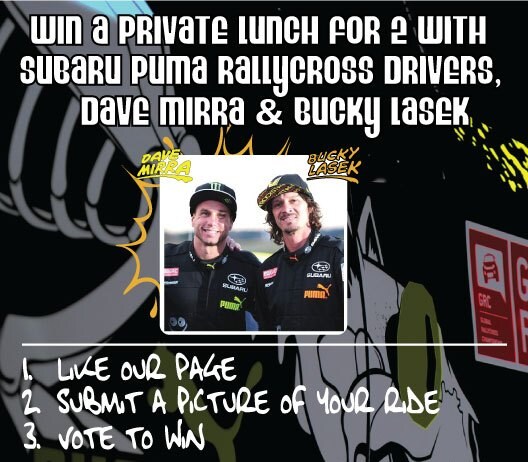 Special thanks to our sponsors: